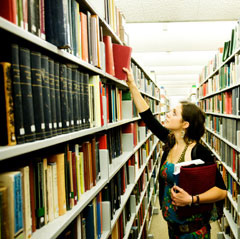 GWQ Inc places priority on providing financial assistance for women to undertake university studies in Australia and overseas.
In 2009 the Queensland committee awarded the Inaugural Indigenous Women's Award at the Australian Catholic University. This Award of $1000.00 will be bestowed annually. Jo-ann Brock, the recipient in 2010 wrote to the Committee expressing her gratitude and said:
"Let me first start by offering my appreciation of being awarded the Indigenous Woman's Award. I can not express enough what this has meant for me and my family.
I am a 25 year old Indigenous woman descendant of William Henry Holten (Goola) and Josephine Pearl Moran from the language groups of Dunghutti (Kempsey) and Biripai (Port Macquarie). I was born in Port Macquarie and spent the earliest years of my life sailing around Australia on my fathers yacht. We settled in the Telegraph Point area on a small farm. We lived a very modest lifestyle and my father worked very hard while my mother sought an education. She is a very remarkable woman, overcoming all odds and has been an inspiration to me my entire life.
I love learning and this love is what has steered me in the right direction. It saddens me that so many members of my extended family particularly my cousins have been directly affected by alcoholism and drugs, not feeling the need to seek an education. I believe by keeping my head down and working hard has led me to a better life and sets a good example to those who feel they have little choice.
A further bursary is awarded to a female student from regional/remote Queensland. All branches of GWQ award bursaries in their local region. (Please see link to branches on the home page for further details). These bursaries are to assist women with their studies.
Fellowships Fund Inc. (FFI)
FFFI provides fellowships and scholarships for postgraduate research or study. Since 1972, over 200 Fellowships have been awarded to recipients from many different countries pursuing a wide range of disciplines.  To find out more see Fellowships – Fellowship Fund (fellowshipsfund.com.au).

For over 50 years FFI hired and sold academic regalia to graduating students at the University of Queensland and universities and institutions throughout the State. The profits from this operation were prudently invested and provide the capital that now supports these Fellowships.  It's current investment strategy aims to support the continuation of these Fellowships into the future.

Enquiries regarding FFI or its fellowships should be directed to enquiries@fellowshipsfund.com.au
AFGW Fellowships and Grants
Inquiries regarding AFGW Inc awards only should be directed to the AFGW Fellowships Officer. Copies of the application form and the applicant instructions can be downloaded from the AFGW website
GWI Fellowships and Grants
Copies of the application form and the applicant instructions can be downloaded from the GWI website at: http://www.graduatewomen.org/what-we-do/grants-fellowships/